Hello people!!!
In my CV, under 'Hobbies', one of the things I have listed is Art (drawing and painting). And usually, people are surprised to see that. They ask, "You draw?" and I say "Yes!"
However, the truth is that, apart from my eye-pencil and eye-liner, I haven't picked up any other pencil to draw something in quite some time… I'm talking in almost two years!! Does this mean I lied in my CV?
So, I made up my mind to do some art work to see if I still remember how to rule a straight line. So I dug out my pencils and my water colours. Sadly, my water colours have turned to rocks from lack of use, so I decided to do some pencil work instead.
I thought it would be cool to turn it into a tutorial class in case any one of you would like to join me. I encourage you to, at least for the fun of it…
You will need:
– A sketch pad.
– Pencils (2B, 3B, 4B, 5B and 8B).
– A charcoal pencil.
– Eraser.
– A large bottle of Jergens lotion.
Step 1. Pour a generous amount of Jergens in your right hand. Then, gently but firmly, using stroking motions, proceed to ……  (just kidding. That's a tutorial for another day :-))
The real Step 1. Select a picture that has nice lighting. I picked this picture below because I like the lighting and it covers my ears. I HATE drawing the human ear… my ears never turn out right and in all my portraits, the subject always ends up looking like Frodo. So, if for instance, you hate drawing eyes because they take forever to get right, I suggest you use a picture of yourself or whoever you're drawing wearing sunglasses.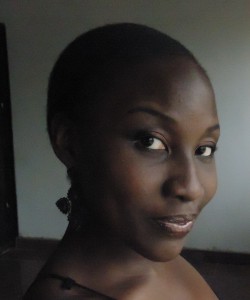 Step 2. Just DRAW!! Draw whatever you see… draw lightly in case you make any mistakes so that you can easily erase. Below is a picture of my finished art work.
Notice how I was able to aptly capture my generous bosom and the angle of my ogor.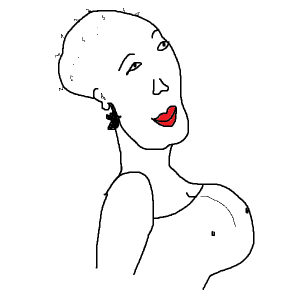 I'm kidding!!! Here's my real work;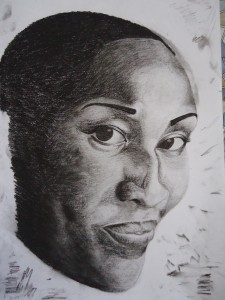 I under-estimated the size of my ogor and I couldn't fit all of it on the paper… and I didn't draw my ear 🙁 Whatever!! I promise you, it looks much better in real life and although it doesn't look exactly like me, I'm quite proud of it. So what do you guys think?
Let me know how yours turned out… 😀