Hi people!
I'm sorry I've been away for a while… things have been kinda tough for me lately (money wise) :'( You will not believe that I've had days where I wake up and I'm really not sure where the next meal is coming from. Somehow though, I always get by thanks to family and friends…
I don't mean to sound like one of those testifiers in my church but the truth is, God has kept me 😀
I'm in this mess because last month, I bought something that I'm still paying for. I realize now that I planned poorly cos I've been soaking garri since then. On special days like Easter Sunday and Good Friday, I spice things up with some milk and sugar, but either way, it's been steady soaks for me…  :'(
That's not what we're talking about today though. On Friday, I got a call from a friend/acquaintance of mine who saw my picture somewhere. She called and said, "You never told me you were a fashion model!" I knew exactly what she was talking about. I didn't deny it or argue with her.
I decided it would be fun to gist you guys about it today. I also don't want you to see the pictures and start thinking that I lead a double life.
Don't worry, it's not nudes… and it's not a sex tape. I'm saving my sex tape for the day me and my father have an argument and he says, "You have shamed me! You cannot possibly cause me more shame than this!"
I will then proceed to "accidentally" leak the sex tape on purpose…
Anyway, I never told you guys that I'm a erm… *clears throat* a 'Plus Size model'… ( ._.)
Basically, what it means is, sometimes I dress up in nice clothes and take nice pictures and maybe even do runways… the best part is, I do all this and still get to eat like a pregnant hog 😀
I started a few months after I first moved to Lagos. I was still living like a tourist then; taking cabs any and everywhere, eating out in restaurants, keeping up with all the latest movie releases… I was balling. I wasn't rich, but I was hopeful. I mean, I was in Lagos… the land of opportunities! Surely, it was only a matter of time before one music exec would over-hear me singing in a Sweet Sensation or KFC toilet and offer me a multi-million Naira record deal… then I would be singing duets with Lagbaja and dancing Skelewu with Davido. By now, I would've been in Dubai, at my "close friend's" wedding.
Sadly, the only thing I got from Sweet Sensation toilet was a sore throat from singing so loud, a UTI and no record deal… :'(
It did me like the prodigal son's savings account when my money started running low. So I began my search for a regular job. It was during one of my online searches that I saw a call for auditions for plus size models. A new fashion house was launching a clothing line that catered to fat curvy  bigger-than-average women.
I auditioned on the first day, with more than a hundred other girls. After that, it was a looooong two weeks. Most of the time, it felt like we were on a reality show; we auditioned, then half the girls got cut, then we auditioned again, and other girls got cut. We had rehearsals, fittings and more rehearsals. Our coach was a drill sergeant-slash-former runway model who made us walk a runway in heels till we bled. I used to have nightmares about high heels and runways… Every day was like a new audition to keep your spot in  the finals. In the end, we were down to just twelve models.
It was taxing, but I had so much fun… the dramatic make-up, the hair, being dressed up by two/three people at the same time, the mad rush. We (the models) got gifts and the extra cash did not hurt at all.
So, a few weeks ago, when I got a call to model clothes for an up-and-coming fashion house, I agreed. Initially, I was fronting like I would be too busy for a photo-shoot, but then I looked at my empty bowl (with soaked garri remnants), I thought of my account balance and I accepted the offer.
Long story short, we did the shoot (me and some other intimidating skinny hot babes) and voila! See some of the pictures below… :'(
I have a couple more pictures on the website and I'm even on the logo (yay me)!! You can visit the website here: www.kayjay.com.ng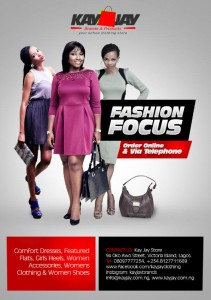 There's another website that has some more pictures, but I don't like those ones. And I pray that no one ever finds those pictures or else they might use them to blackmail me…
Have a great week people!
ps- This is free advertising o! I need to talk to the owner about this…